Last updated November 2017
Let's face it: We often waste money on stuff we don't really need. Top-of-the-line appliances and granite countertops bought by homeowners who rarely cook. $400 golf shoes. The latest HDTVs. Designer handbags. Well, OK, designer anything.
But there's a big difference between splurging on luxuries and throwing away money on services and products that, while marketed as useful, are actually bad buys. Equally wasteful: Paying for services and products that are worthwhile, but that you could get for free.
In our articles we often uncover products, services, and extras that just aren't worth paying for, from duct cleaning to extended warranties to tire rotation. Drawing from that advice, what follows is our list of 50 wasteful buys.
Keep in mind that we didn't include all the gadgets advertised on late-night TV (you know those inventions won't really change your life, right?). And in almost all of our articles, our undercover shoppers find that the biggest money waster is failing to shop around for a good price.
Air-Duct Cleaning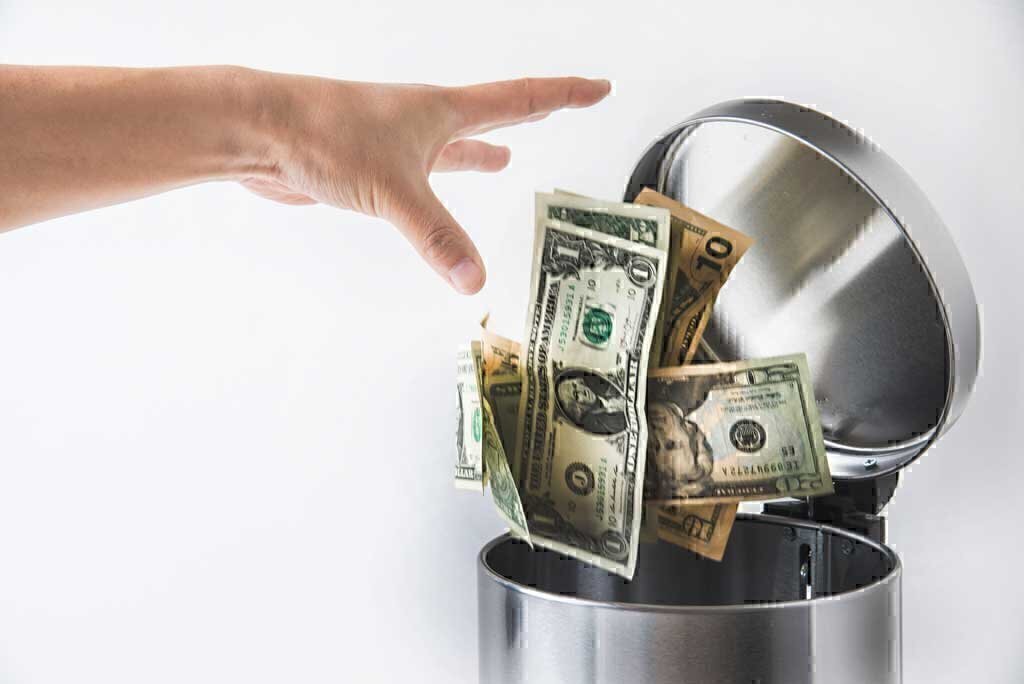 We call duct cleaning work a solution in search of a problem. While cleaning businesses often tout that their services will improve your home's air quality, there's little evidence the work yields any substantial benefits. Even if you suffer from dust allergies, you may want to avoid having your ducts cleaned: Independent research indicates duct-cleaning work may contribute to dust problems, rather than lessen them.
Amazon Prime
When Amazon launched Prime, its main benefit was free two-day shipping. Now Amazon provides free standard shipping for all orders of $25 or more (usually packages arrive in one to five days). Prime is still worth its $99 annual fee if you regularly take advantage of its other perks (original TV shows and free movies, unlimited cloud storage for photos and video, music streaming service) or want its subscribe-and-save discounts on household and baby products. But many Prime customers aren't getting their $99 worth.
ATM Fees
You forgot to get cash for the babysitter and now it's past midnight. You made it to the new taco shop only to learn—no bueno—that it doesn't accept plastic. When you need cash in a hurry, sometimes you shell out a bank's outrageous fee to use its ATM, but for the most part you can avoid paying it. Many banks and credit unions offer account options that reimburse customers when they incur ATM fees. And you can usually use an ATM card for purchases at grocery or drug stores and add cash back gratis.
Auto Insurance—Rental Car Reimbursement Coverage
Our undercover shoppers find that auto insurers are relentless in pushing additional coverage to pay for a rental car if your own ride needs bodywork. The problem? The modest coverage offered—typically $30 per day with a limit of $600 per claim—usually costs $30 to $70 per year for each car on your policy. The additional premiums, over time, are likely to greatly exceed any benefits you can collect. We say don't buy it.
Baby Products
Many gadgets marketed to new parents—wipe warmers, Diaper Genies, pee-pee teepees (they're a thing, Google it), and magical infant swings—promise to keep your home as peaceful as a yoga retreat. But, as seasoned baby wranglers know, they're often gimmicks you don't need. Before buying a doodad for yourself or a new parent, ask around about what actually gets used, or check one of the web's gagillion great parenting blogs. One great resource is the BabyCheapSkate.com list of toys that kids actually play with.
Basement Waterproofing Services
If you have a wet basement, before calling in a waterproofing service try some simple solutions. Most basement moisture problems are resolved by cleaning out clogged gutters, extending gutter downspouts, or doing a bit of regrading work. These tasks are far less expensive (even if you hire someone to do them) than jackhammering up your basement and installing interior drainage systems and sump pumps. Waterproofing companies will gladly sell you costly solutions that manage rainwater after it enters your home, but they usually won't offer to solve the problem outside, at its source.
Bottled Water
Getting your drinking water from the tap is nearly free and doesn't waste tremendous amounts of energy getting it to you. It also contains fluoride, which helps protect your teeth from cavities. If you need to filter your community's tap water, and your refrigerator doesn't have a built-in filter, you can buy a standalone water filter for less than $20.
Breast Pumps
These devices aren't wasteful, but paying full price for one probably is. Health insurance plans must cover breastfeeding equipment and counseling. Breast pumps don't come cheap: Most cost $100 to $350. Before shelling out or putting one on your baby registry, check with your health insurance plan; it probably will help pay for one.
Cable TV
Thinking about cutting the cord? Many of our staffers have joined the cable-free club and haven't looked back. Streaming services Netflix, Amazon Prime, Hulu, SlingTV, and others make it easy to access a plethora of programming for a fraction of what the cable and satellite TV companies charge. Some watchers will save us much as $100 a month.
Car Repairs at the Dealership
Unless the work you need is covered by a new-car warranty or manufacturer recall, use an independent shop, not a dealership. Many consumers believe dealers have access to proprietary knowledge, sophisticated diagnostic software, and better tools than independent garages. That's not true. And when we use our surveys of consumers to compare quality of work at dealers and non-dealers, the non-dealers on average score better. We also find that dealerships typically charge a lot more than independents.
Car Washes and Detailing
Many of us prefer a nice clean ride to a dirty Dodge, and it's fine to pay someone to vacuum up all the crumbs and crud. But don't pay for regular washing or detailing based on the premise that doing so will protect your car's resale value. It won't.
Car Rustproofing and Other Coatings
I mean really.
Car Warranties
The reason car dealers heavily push extended service contracts? They produce huge profits. But because many new cars are very reliable, most owners make few service claims. On a contract for which you pay $2,000, the average payout for claims might be less than $500, with the rest going to administrative costs and profit. For most of us there's little reason to insure against big repair bills—especially if the likelihood of them is small.
Cloud Backup
Dozens of websites offer free cloud storage. Most of them cap their free offers at 5GB, but if you need more you can sign up with multiple sites. Need a place to park all your pics? Our editors' favorite Amazon Prime perk is that it offers unlimited free backup for pics and videos.
Credit Reports and Scores
Everyone should carefully watch their credit, but you don't need to pay for it. Once a year, the three consumer credit reporting companies—Equifax, Experian, and TransUnion—must supply you with a free credit file disclosure if you request it. Ask via AnnualCreditReport.com or by calling 877-322-8228. Reports show the status of your current credit card accounts, mortgage loans, other credit relationships, plus companies that have recently queried your credit file—but won't reveal your credit score unless you pay extra. Some other companies, including CreditKarma.com and CreditSesame.com, offer free scores and monitoring (in exchange for showing you ads from their financial services clients).
Cruises—Paying for Extras
Rock the boat and skip the soda packages (drink up the free lemonade, iced tea, and water). If you have to have your Diet Coke, bring your own or order them a la carte. Shore excursions represent another big spending trap: You usually can book your own adventures for far less money. And the high costs of onboard internet packages on some ships (as much as $1 a minute) give you one more reason to unplug and relax.
Debt Relief and Counseling Services
Many debt-relief and credit-counseling services rip off their customers by promising solutions they never deliver, charging high fees, or even outright theft. No company can magically eliminate your debt or quickly repair your credit scores. On your own, you can do what most of what the legitimate services can accomplish for you. If you need help, we urge you to read the warnings and advice offered by the Federal Trade Commission. It advises that you deal only with certified, trained counselors who offer in-person meetings, and to avoid those that charge high fees or hidden fees, or urge clients to make "voluntary" contributions that produce more debt.
Dentists—Unnecessary Treatments
Be suspicious if a new dentist recommends far more treatment than did your previous ones—for instance, if he or she prescribes replacing lots of old fillings. Sometimes extensive treatment is appropriate, but we receive frequent complaints about this practice from dental patients we survey. Your dentist should fully describe the condition of your mouth and the corrections needed as well as provide a written treatment plan. If proposed treatments are substantial, get a second opinion.
Diamonds
Yes, they are a girl's best friend, but as we discuss in our diamonds shopping guide, they're also overhyped and overpriced. Many other options are better buys: Lab-grown diamonds are chemically and physically identical to mined diamonds, and cost about 20 to 30 percent less; and sapphires, rubies, and other stones offer similar dazzle at significantly lower prices.
Drugs—Name-Brand
Always ask your doctor whether less-costly generic brands can be subbed for name-brand drugs.
Dry Cleaning
If the label says "Dry-clean only," get thee to a professional cleaner. But if it just says "Dry clean," it's just a suggestion; and "hand wash" and other instructions mean that—if you're careful—you can do your own laundry.
Extended Product Warranties
Consumers waste billions of dollars each year on extended warranties (also referred to as "protection plans"). The retailers selling them increasingly count on the sales of these mini insurance plans for a huge chunk of their profits. In short, they're a good deal for the stores that sell them (and for the companies that administer them), but a bad deal for customers. On average, less than 20 cents of every dollar taken in actually gets paid out in claims.
Even if you want one of these policies, you can usually get it for free. Many credit cards automatically double the length of manufacturers' warranties when you pay for stuff with their cards, and BJ's, Costco, and Sam's Club also offer free warranty extensions when you buy there. That so many companies give away extended warranties is an obvious sign that they're not worth paying for.
Exterminators
Except for termites and bedbugs, most homeowners can solve most pest problems themselves. If you do hire help, avoid long-term contracts. A single treatment performed properly will rid you of most household creepy-crawlies. And if you suspect termites or bedbugs, get several inspections and proposals.
Eyeglasses Extras
Polarized lenses, anti-reflective coatings, transition lenses, high-index lenses: When shopping for eyewear, you'll probably get offered lots of add-ons. Do your research. We're not saying these options are without value, just that some are marketing gimmicks and that others don't make sense for everyone. For example, if you usually wear contacts and sunglasses outdoors, transition lenses are a waste. And if you have a low prescription, there's little need to pay more for slimmer, high-index lenses.
Fitness Center Memberships
Most people who sign up with fitness clubs stop using them after only a few months. Before joining a gym, think realistically about what activities you are likely to participate in and how often you'll use it. Be sure to weigh all your options: Can you work out for free or less expensively some other way—for example, by doing exercises at home, running, biking, joining a sports team or exercise class, or using a government-run rec center?
If you still want to sign up, know that many insurers incentivize fitness by offering deals on gym memberships. Some will even reimburse gym fees if you go often enough. Check your plan's website to see what you can get with your contract. If you have a Medicare Advantage plan, check out the SilverSneakers and Silver&Fit programs, which offer free or very-low-cost memberships at lots of clubs.
Fitness Trackers
While they lack the features offered by most fitness trackers, most smartphones can track basic exercise (walking or running distance, stairs climbed, etc.).
Furniture and Carpet Protection Plans
In the past, furniture and carpet stores offered to apply a stain-resistant coating. Now those coatings are applied during the manufacturing process and what the stores offer is an insurance plan. Don't buy it.
Gasoline—High Octane
If your car's owners' manual specifies a high-octane formulation, then use it. Otherwise, fill 'er up with regular.
Home Security Systems
Because most burglars enter homes by opening unlocked doors or windows—or pushing and kicking locked ones until they open—there are many more effective and much less costly ways to secure your home. Equip all doors with good deadbolt locks; make sure no windows are accessible from the outside; set up lighting systems; and improve your own security habits (consistently lock doors and keep track of keys, have someone pick up your mail and any packages delivered when you are away, and keep valuable items out of sight).
Home Warranties
We really don't like these plans. These policies, which typically cost $500 or more per year, aren't really warranties, but rather insurance to protect against repair costs of major appliances, heating and cooling systems, plumbing fixtures, circuit breakers, and a few other systems. They don't cover the most expensive repairs you might need (roof repairs or replacement, leaky windows or skylights, basement moisture, or chimney repair). Some policies even charge extra to cover plumbing, heating systems, or central A/Cs. Even for the systems covered, much is excluded, and most require you to pay a $100–$125 deductible for each service call. The worst part: You don't get to decide who does the work. Plus, we find the best repair services don't work with home-warranty companies.
Identity Theft Insurance
Identity theft is a real threat, and homeowners insurance companies and firms like LifeLock are happy to sell you ID theft insurance policies. But because the premiums for these plans are high compared to what they cover, we don't recommend them.
The add-on policies offered by homeowners insurance companies don't promise to clear your credit history and record for you; they merely cover the expenses you incur when you do so on your own. Although each year millions of Americans are victims of identity theft, the average out-of-pocket cost to remedy the effects of the crime is well under $1,000, and many cost victims nothing. Most of the damages inflicted by identity theft are not out-of-pocket, measurable costs, but rather the time and effort required to repair the damage.
Another reason to forgo special identity theft coverage is that you may be able to get a similar policy for free from your bank or credit card. Also, you already get protection from fraudulent credit card charges—the most common form of identity theft injury—under the federal Fair Credit Billing Act, which stipulates that victims aren't responsible for fraudulent charges of more than $50 per card.
Some companies that hawk protection plans might do you more harm than good. Major player LifeLock recently settled a $100 million judgment with the FTC for misleading consumers in its advertising and failing to have proper protections in place to protect its clients' sensitive data.
Internet Modem and Router Rental
Many cable companies and internet providers charge $10 or more a month to rent their modems and wireless routers. You can buy your own for less than $100; the savings from not paying for a monthly rental will pay back your investment pretty quickly.
Investment Brokerage and Consultation Fees
Many of us pay out hundreds or even thousands of dollars each year for financial advice, brokerage fees, account service fees, and to fund managers. Are you getting your money's worth? Do these fees really realize better returns for you? Most of us will do better by managing our own money or moving it to investments that scrape very little for management fees. For example, very-low-fee index-linked mutual funds usually outperform ones that have high management fees, and most of us don't need help picking a diverse selection of stocks and mutual funds.
Junk Haulers
There are tons of free ways to get rid of stuff, including donations to charities—some even offer free pickup. And websites like Freecycle.org match you with people who think your trash is a treasure.
Life Insurance Annuities
As these plans are typically expensive, you'll usually find better options elsewhere. If you want life insurance, term plans are almost always better buys. If you want a savings vehicle, invest elsewhere.
Medical Tests and Procedures
No, not all of them. But it's clear that doctors too often prescribe—sometimes at their patients' requests—unnecessary treatments. The Congressional Budget Office estimates that up to 30 percent of the costs of medical care in the U.S. is for unnecessary tests, procedures, doctor visits, hospital stays, and other services that may not actually improve patient health—and in some cases may cause harm.
One solution is educating doctors and patients about procedures that are common but unneeded, and encouraging both to discuss their necessity and effectiveness before they're performed. That's what Choosing Wisely does. An initiative of the American Board of Internal Medicine Foundation and Consumer Reports, the campaign provides data and guidelines for doctors and patients.
Mortgage Insurance
If you don't have 20 percent equity, your lender likely will force you to buy costly mortgage insurance. But you don't have to carry it forever. Once you have paid down your mortgage balance to 80 percent of your home's appraised value, you can ask your lender to cancel the insurance, and by law it must eliminate it once a mortgage balance represents less than 78 percent of a home's value. (Note that you can't cancel mortgage insurance on an FHA loan; if you have one of those, you'll have to refinance your note to eliminate it.)
Pet Insurance
When considering whether or not to buy pet health insurance, first determine what you would do if Fluffy or Fido required expensive medical care. While many pet owners will pay anything to save their furry kids, others won't. If you are in the latter group, pet insurance is not for you. If you belong to the pay-any-price group, consider it if huge vet bills would severely strain your finances. But keep in mind that in terms of total out-of-pocket costs over the life of your pet, most owners will do better without insurance.
Rental Car Insurance
When picking up your rental car, the company rep likely will express deep concern over your finances should your ride get wrecked. But for most drivers, the coverages the agent "strongly recommends" represent unnecessary expenses. Most of us already get the coverage from a combination of our personal auto insurance policies and the credit cards we use to pay for the rentals. Plus, you get liability coverage automatically from the rental car companies themselves, as required by the state or country you're visiting.
If you don't own a car (and therefore don't have auto insurance), or you want to protect against risks not covered by your auto insurance or credit card companies (loss of use fees is a biggie), consider buying your own standalone policy, rather than paying for the expensive plan offered by the rental company. If you're an American Express cardholder, for example, you can pay a flat $25 fee and get good primary rental-car insurance coverage, which means that, unlike the plans offered by the rental companies, if there's a problem no claim is filed with your regular auto insurer.
Sale-Priced Stuff
That fancy new gadget on sale for "60% off!" seems like a steal. But it's probably not. Our undercover shoppers find that advertised "sale" prices often aren't special prices. Many stores offer fake discounts to discourage shoppers from bothering to shop around for legitimate good deals.
Self-Storage Rentals
For proof that we Americans have too much damn stuff, we present the burgeoning self-storage industry, which already rakes in more than $20 billion a year. Unless you're in between homes or need a place to stash your things during renovations, downsize your possessions rather than blow big-time money on storage.
Tax Prep Help
If you have complicated investments, are self-employed, or own a business, it often makes sense to pay a CPA for help. But most of us learn to do our own taxes. Tax-prep software is now remarkably easy to use, and several studies have found that many of the "experts" employed by commercial tax-prep companies don't know what they're doing anyway.
Tech Support
At the end of your rope trying to program or hook up a new TV? Can't get your new tablet to find your Wi-Fi network? Can't configure that new laptop? Some stores, including BJ's, Costco, and Sam's Club, offer free tech support. Or ask a friend "who knows about these things" in exchange for lunch.
Tires—Nitrogen Fill
The pitch is that filling tires with nitrogen will more effectively maintain air pressure, which means you'll get optimal fuel economy and tread life. That's true, but the benefits are really small. And if you have to pay for nitrogen fill-ups (many shops charge $6 or more per tire), then it's really a waste.
Tire Protection Plans
Some stores (including BJ's, Costco, and Sam's Club) provide this type of coverage for free, but most plans cost an extra $40 to $75 for a set of four tires. Unless it's free, these add-ons aren't good deals. The protection covers damage to tires due to road hazards during normal driving. In other words, if you get a flat caused by a nail, glass, or other road debris, the company promises to repair or, if necessary, replace the tire. But if you get a flat from accidentally running over a curb or other driver-caused errors, you get bupkis. And these plans never pay for failure from worn tread; that type of problem is (poorly) covered under the manufacturer's warranty.
Even if a nail flattens your tire, you can get it plugged by an auto repair shop for only $20 or so. Paying $40 to $75 to protect yourself against a $20 risk doesn't make sense.
Tire Rotation
Periodically rotating tires extends tread life by allowing even wear, but note that the tread life gained from regular rotation likely won't offset the cost of rotating them. If your tire seller or repair shop will rotate tires for free (as is the case with Costco and some other sellers), then sure, go ahead and do it, but if you have to pay a fee, skip it.
Travel Insurance
Travel booking sites, airlines, and hotels usually "recommend" you buy insurance to protect your trip. Most only pay out if you cancel a trip due to illness or if weather cancels a trek for you; some reimburse for lost baggage or pay off if there's an accident and you die, are dismembered, lose your eyesight, and other morbid scenarios. All are rarely used by their customers and notoriously difficult to collect from. Come on. You know what to do.
Vitamins and Supplements
Mounting clinical research indicates that many vitamins and nutritional supplements provide few, if any, health benefits—and some can do more harm than good.
Most of us get enough vitamins by eating a healthy, balanced diet. Some people should take specific vitamins or supplements—for example, many pregnant women need folic acid and some adults require extra vitamin D. But talk to your doctor or perform research using reputable websites (MayoClinic.org has good summaries) before gobbling down a lot of supplements.
Windows—Buying for Energy Efficiency
There are lots of reasons to replace old windows. But despite promises you may get from installers, even if your current windows are extremely inefficient, the energy savings you'll get in this area from new, highly efficient ones won't offset the cost of the project.
Yoga Classes
The ancient practice of stretching, posing, and meditating is said to be more popular in the U.S. these days than it is in India. But classes at yoga studios can run as much as $30 each or well over $100 a month for unlimited oms. Luckily, since yoga doesn't require much equipment, you can find free or nearly-free classes in lots of spots, including churches, libraries, and parks. Some fitness stores also host gratis sessions of downward dog, et. al. And you'll find roughly 10 bajillion free instructional videos online.